CAU DAT FARM ANCIENT TEA FACTORE – WITNESS OFF 100 YEAR OLD
About 22km from the center of Da Lat city to the Southeast, there is a famous tea area since 1927, currently invested by Cau Dat Da Lat Tea Joint Stock Company, in which the Ancient Tea Factory is still operating. .
After many historical periods, since the establishment of the factory, the French had managed and organized Western-style tea production with the most modern machinery and equipment at that time. So far, Cau Dat Tea Factory still maintains quality production activities and is granted a Vietnamese record certificate as "the oldest tea factory in Vietnam still in operation". This is also the place where the special product was born: "Ancient Cau Dat Da Lat Tea"
1. History of Ancient Tea Factory - 100 years old
Through the change of history, the factory with old and bulky machines is still in its current state. Because it is made from very good steel materials, it has been almost a century but the machines are not rusty, visitors can look back on the whole process of old tea production, history of formation and development in Vietnamese tea industry. This is an evidence to the persistent vitality of a famous tea brand before.
Older people in Tram Hanh Ward (Da Lat) still told the following generation that, since about 1920, before Cau Dat Tea Factory came into operation in 1927, the French had planted tea plants on all hills around the factory area. The history of the factory was also recorded, at the time of establishment (1927), the factory had more than 1,000 technicians recruited by French from Quang Nam, Quang Ngai, Binh Dinh and Phu Yen provinces. The French owners also imported a system of the most modern equipment at that time.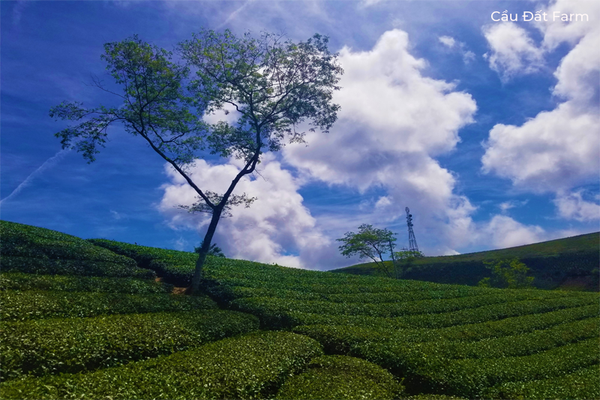 By 1931, Cau Dat tea plantation was planted and exploited on 600 hectares, this time Cau Dat black tea was officially exported to Germany, France and the Netherlands, which is also considered the heyday of the Tea Department. Through many ups and downs of history, the period from 1960 to 1975, the factory was managed by Chinese merchants, continuously losing money. After 1975, the tea factory became a state-owned enterprise and conducted equitization in 2005. By early 2015, Cau Dat - Da Lat Tea Joint Stock Company was officially established. From here, the deserted tea hills are freshly taken care of again; areas of aging and poor productivity are renovated.
Heat pipe of tea drying system: operated since 1927
Ventilation fan system: operated since 1927

Includes giant propellers that run continuously, helping to converse the air and keep the temperature.

Dryer for drying tea: Operated since 1930. This machine works to suspend the activity of enzymes to the best quality of products, reduce the moisture of fermented tea to facilitate the preservation of finished tea, create curly and black tea wings. In addition, it loses the green pungent odor and reveals the aroma of tea and some new aromatics are formed. Tea must be dried, dry and without smell, the moisture content of 3-5%.
Combination screening achine: operated since 1930. It has the effect of morphological classification of different good and bad products and eliminating impurities. The joint sieve system is recognized by Guinness Vietnam Book as the oldest machine in Vietnam.
Finished tea beard vacuum cleaner: operated since 1933

Tea is cleaned to the maximum, eliminating beard to help the finished product to the best quality. 2. The process of producing tea 100 years ago - a golden-age tea witness

After being taken to the factory, the tea was first made with natural wilt on tea drying nets.

Tea jar - Marshall brand was imported by the French in the 1930s.

After helping the tea to get curly, the tea would be put through the screening machine.


After sieving, big buds were placed in the cutting machine, ensuring the size of the tea is similar.

In the tea gathering room, the workers picked loose leaves, fiber and grass, rubbish ... to help the finished tea be completed.
Finished dried tea was put in a storage container.

Exported tea containers were processed at the factory.

The workers were weighing the exact amount of tea and exporting it for export. When coming here, visitors will see with their own eyes, participate in the stages of tea production, immersed in the taste of delicious tea leaves and passion for people.

Contact information, Cau Dat tea hill address

Address: Truong Tho Hamlet, Tram Hanh Ward, Da Lat City

Hotline: 18001192 (Kênh 1,2)